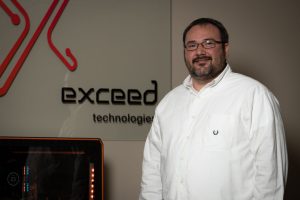 David Horton began his Exceed Technologies adventure as a Residential PC Repair Technician. With his excellent customer service abilities and ever growing knowledge, he quickly advanced to become a valuable part of the Exceed family. After a 3 year hiatus in Hawaii, where he earned his Commercial Pilots License flying Helicopters, David returned to Exceed Technologies where he currently serves as Vice President.
"I enjoy technology and the ever changing challenges in IT. I'm always learning something new and love to utilize the critical thinking skills required to successfully troubleshoot and resolve customer issues. Bridging the gap of communication between non‐technical customers and Exceeds' gifted technicians, gives me great satisfaction."
David is passionate about the Exceed culture and strives to promote and maintain quality, integrity, and continuing education among his staff. David takes pride in managing the day‐to‐day business to allow the President of Exceed the freedom to create novel ideas for the growth of Exceed, the Golden Triangle Community and beyond.