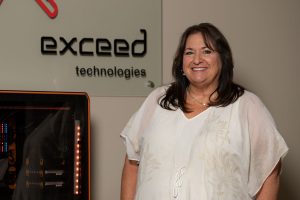 Since Janet Horton began her career as Dispatch Manager for Exceed Technologies in 2018, she has been using her exceptional organizational skills to manage and schedule our skilled technicians to meet customers' needs. As a liaison between our workforce and our customers, Janet connects the customer with the most suitable technician to quickly and successfully resolve customer issues and surpass customer expectations.
"When I decided to return to the business world after homeschooling for 25 years, I didn't know what to expect. I wanted to find a business that was customer‐centered, provided innovative solutions, and gave me the opportunity to engage in company growth. Exceed is the perfect fit for me. I have the opportunity to interact with, not only the best customers, but an unparalleled leadership team and dedicated employees."
Committed to her goal of always challenging herself, Janet's job responsibilities have expanded to include promoting Exceed in the community where she is dedicated to sharing our services on social media platforms, with product promotions, and by representing Exceed at various business events. Through coordination and communication Janet helps maintain and cultivate the highest quality of customer service.