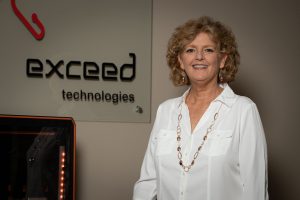 Mitzi Edwards serves as a bridge between Exceed Technologies' administrative staff and the individual departments and technicians, working to facilitate the culture of growth, learning, and improvement in the Exceed Technologies Columbus office.
"I've always been interested in technology and the IT world so I love being a part of it — seeing the changes going on week to week in the industry and hearing the technicians talking about the trends. I can't express how much I love my job and the people I work with. They don't just come in and work from 8 a.m. to 5 p.m. They work until the customer is taken care of, even on weekends and holidays."
As Office Manager, Mitzi helps to establish regulations and policies that help the company run smoothly and complete the tasks that free up other staff and technicians to take care of customers.