Exceed Technologies Awarded CompTIA Certified Team Award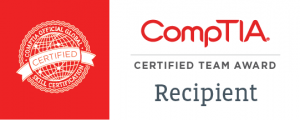 Exceed Technologies, Inc. has been recognized by CompTIA for the company's commitment to training and certification to ensure the staff has the skills to get the job done and get it done right the first time.
"Certifications held by this group demonstrate the employee's IT skills," said Teresa Varela, Director of Business Development at CompTIA. "In an ever-changing IT industry, the skills IT professionals need to do their job well are constantly evolving."
The new CompTIA Certified Team Award recognizes IT teams that have taken the extra step to show they have the skills and dedication to provide superior service to their customers – internal and external – by getting certified. To earn this honor, a team must have 80% of their technicians certified and this group has exceeded the requirement.
"Continuing education is very important to the success of our organization. When choosing what certifications our employees should take, CompTIA's vast options made our decision easy.  We are very proud to receive this award and look forward to our continued relationship with CompTIA." said Jeremy Bandre, Exceed Technologies President.
COLUMBUS:
Jeremy Bandre:

CompTIA A+
CompTIA Project+

Troy Waldrep:

CompTIA A+ (IT Technician)
CompTIA PDI+
CompTIA Network+

Thomas Richardson

CompTIA A+
CompTIA Network+
CompTIA PDI+

Tammie Phillips

CompTIA PDI+
CompTIA Security+

Timothy Mitchell:
Brittany Bigham
Mike Moran
TUPELO:
Jesse Bandre:

CompTIA A+
CompTIA Network+

Sam Strickland
Coty Childs
John Heagy
Josh Maxey
Tyler Heavener
Noelle McGraw
JACKSON:
Lee Tehan:

CompTIA A+
CompTIA Network+
CompTIA Security+

Joshua Johnson

Comp TIA A+
Comp TIA Network+